Private Yoga Holidays-Algarve
As we walk on a path, we walk, not knowing. Even though we don´t know, we still continue walking. We might think we know, but actually we know very little. And the way reveals to us , time and again, this not-knowing, and also gives us the strength to continue walking.
You come first
Description
This is a unique private Yoga Holiday just for you, tailored to your specific needs – no groups, no shared rooms, just support and space for you to be touched and grow at your own pace through private guiding, mentoring, healing sessions and walks in stunning nature.
It offers you the opportunity to understand your discomfort & pains and work on the causes. The practice itself connects you to your senses and allows you to move from Inside. You can detach from your habitual environment and dive into the truth of who you are meant to be.
Reconnecting to your Self and realigning with nature, walking along the beach and absorbing its rejuvenating energy – letting go of what is no longer needed in your life and setting new intentions.
Life is a dream. Realize it !
Let´s Do Less and be more Aware of what you are doing.
Venue
Discover a little corner of Portugal in the Western Algarve called Carvoeiro and go through a unique yoga experience.
The south coast of Portugal is an insider's tip, as there are both beautiful sandy bays and impressive cliffs. A stunning coastline of golden beaches and dramatic natural scenery invite you to recharge batteries and reset your intentions.
In addition, there is the Atlantic Ocean with its enormous expanse. The place is located directly on the coast and offers ideal conditions for some ME-time to grow & study as well as to relax & let go and enjoy.
The village center in a short walk distance provides you with its restaurants, shops, supermarket as well as local fresh fruit markets. Celebrate the wonderful variety of food.
This region is known for its abundant gourmet cuisine.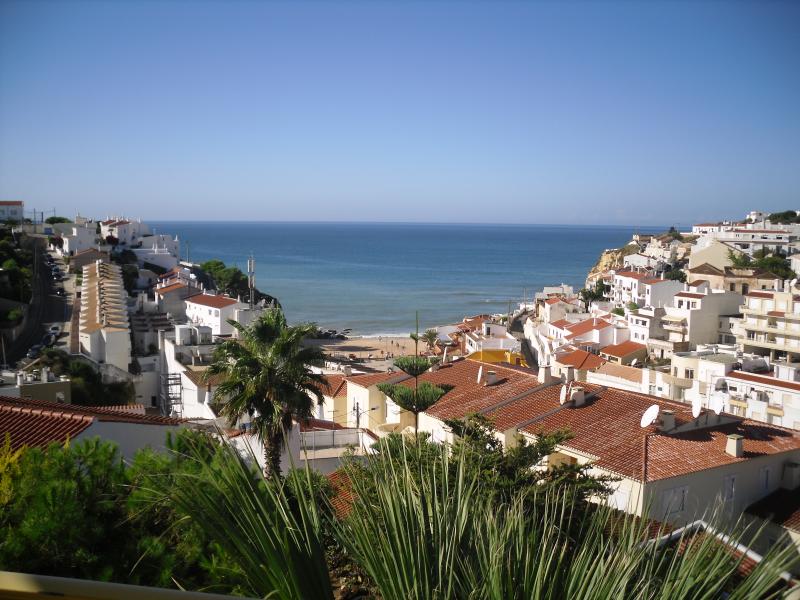 Dates, Fees & Accommodation
3, 5 or 7 nights
Available starting dates (adaptable on request):
11.2.2022 / 11.3.2022 / 22.4.2022 / 20.5.2022 / 11.6.2022 / 23.9.2022
14.10.2022 / 18.11.2022 / 23.12.2022 (Christmas Retreat)
Languages spoken: Deutsch, English, Português
1-2 participants
Beginner, Intermediate, Advanced
Price:
3 nights – couple: 469.-Euro/person – Single: 729.-Euro
5 nights – couple: 779.-Euro/person – Single: 1199.-Euro
7 nights – couple: 919.-Euro/person – Single: 1629.-Euro
Included in your Yoga Holidays:
accommodation in Monte Dourado a quiet oriented resort
modern first floor 2 bedroom apartment (double & twin) furnished and equipped to a high standard, including air conditioning (cools in the summer and heats in the winter), free-WiFi and log burning fire in the lounge. A bathroom and separate shower room. The modern kitchen has is fully equipped including washing machine, dishwasher and microwave. Comfortable lounge/diner opens onto a long sunny part covered terrace that is equipped with a table and chairs
Self catering
Daily Yoga practice (VijnanaYoga) in the Studio or on the Beach (excl.day of arrival and departure). Both are located close to your accommodation, 10 minutes drive. For full program please click here.
daily sitting meditation
daily pranayama work
working on the various groups of Asanas (Yogic postures)
study of yoguic texts
Yoga material included
NOTE: There is no transfer from the airport included. I recommend you a rent-a car.
If you wish for a Taxi transfer and would like me to book it for you, please let me know in advance. Payment will be due by the User directly to the driver.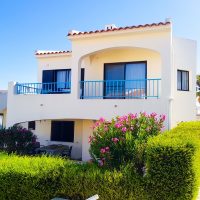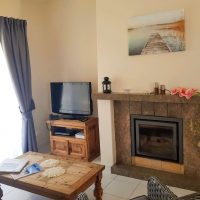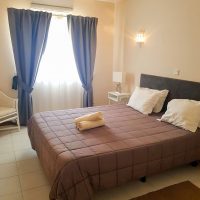 About Me – Your Host
Hi, I am Sandra. I have been practicing Yoga for over 20 years. What I most love about what I am doing is that I am blessed to share my passion for Yoga with beautiful like minded people like you. I could not be more grateful doing what I love to do and do more of it.
Fore more about me, click here